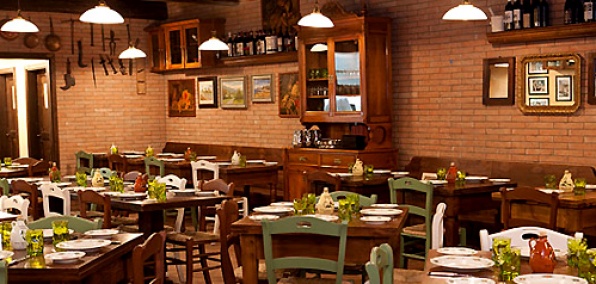 A first date is never a sure thing.
But there are safeguards. Ways to mitigate risk. Precautions.  
Like rustic atmosphere, free-flowing wine and an easy escape plan.
Which brings us to
Osteria Morini
, a brand-new, laid-back Italian eatery from the folks behind Marea and Alto, opening early next week in the heart of Nolita, and certified first-date ready. We're about to give you the only three things you need to be aware of as you light the eternal spark of love...
1. Channel your inner luxury farmer.

If you've ever had dinner at a farm, and that farm happened to be a luxurious European farm with golden geese, well, you know your way around a rustic farmhouse dinner like this one. So relax, settle into a corner at a dark wood table and...
2. The trick is to go for the wine on tap.

Once you're seated, you'll want to turn your attention to the vino. You'll order by the liter. From a tap. And then you will order again. At this point, things should start to get interesting, and your mind will naturally drift to shareable foods: warm parmigiano custard, wild mushrooms over fry bread and duck liver mousse crostini.  
3. Have an escape plan.

Now, we're not saying there is any reason this date should end early. But sometimes not even a liter of wine and duck liver mousse can do the trick. In this instance, deposit your date gracefully in a cab out front, wait for it to drive away, and at this point, without moving a step, you will be positioned perfectly at the nightlife nexus of
La Esquina
,
Café Select
,
Kenmare
, Goldbar and
XIX
.
Where first dates are born.