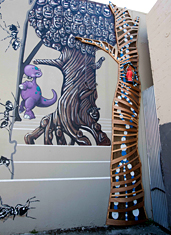 We've got a mission for you...
Walk down a street that's more like an alley. Ignore the garbage cans. Follow the chain-link fence.
Then, hidden on a dead-end road off Mission Street is a nondescript building. When you see the Banksy mural, well, congratulations, you've come across what's actually the newest club in the Mission.
Introducing
The Public Works
, a multifaceted underground art studio and gallery by day that turns into a club, bar and live-music venue from sunset to sunrise, slated to open tomorrow.
If you took a big warehouse in a hard-to-find, off-the-beaten-track locale and squeezed in an art museum, a locals' bar, indie types, Mission hipsters and a DJ-fueled dance floor, you'd have Public Works.
There's art hanging on the walls from whatever's been produced that day in the studio, and the layout feels like a maze of little house parties, with crowds hanging out in multiple high-ceilinged, skylit rooms and balconies.
But what we think you'll like best about the setup—aside from the option for live music and the extra-springy floors that give your moves that extra boost—is that soon the balcony will be getting its own satellite bar.
After all, once you've found the place, the drinks should really come to you.