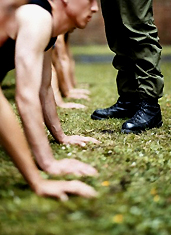 It's beach weather out there, finally.
Meaning powder sand, warm sun and the scent of coconuts could be within your grasp.
But we've got another idea—and it involves Green Berets...
Introducing the first-ever
Tough Mudder Challenge
, a two-day, Special Ops-led immersion training where you'll be running, crawling and climbing as if your life depended on it, on and around Ocean Beach this weekend.
Now, technically, this is a preview of the Tough Mudder Race coming up in Bear Valley next month, but anyone who wants to join in on this 12-mile military-grade workout just for kicks is welcome (we won't judge). Certainly, if you revel in crawling through wet sand, running up and down stairs and ladders repeatedly, and carrying a buddy over your shoulder (more on this later)—all while covering 12 miles, and all with a backpack full of 20 pounds of bricks—this is for you.
And before you start thinking this is completely masochistic, we should mention that it starts over beers the night before at Zeitgeist. They're touting it as a morale builder of sorts, though we think of it as an opportune time to make friends with a buddy of the fairer sex—one who's easy to sling over your shoulder for the next day's buddy-carry portion of the race.
Always planning ahead...