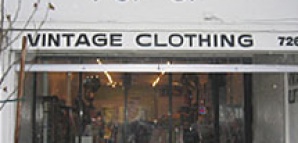 Sinatra. Dean. Bond. Your most frequently emulated style icons tend to fall into the "classic" category.

So if you look past the initially unimpressive façade of The Way We Wore Pop-Up Store, you're likely to unearth some notable vintage panache.

For the last few years, the women in your life have been stopping into the original La Brea shop that birthed the pop-up for vintage, red carpet-worthy Chanel, Yves Saint Laurent and Halston.  (There's even a secret library for burned-out fashion types to find inspiration.) Proprietress Doris Raymond opened the pop-up in January to pare down her formidable stock...and the menswear formerly locked up in her San Francisco warehouse begins trickling in next week. (Supply should be fully in place by March 8 and the entire store vanishes come May.)

Amid the tightly packed wares, you might unearth classy tweed blazers from the '50s, double-breasted suits from the '40s and Beacon blanket robes from the '20s. Dig further for hats from famed milliner Lilly Daché, suits from Town-Clad, and ties, suspenders and (unworn) socks and shoes that revise the meaning of the word "originality."

After all, recycling is important.