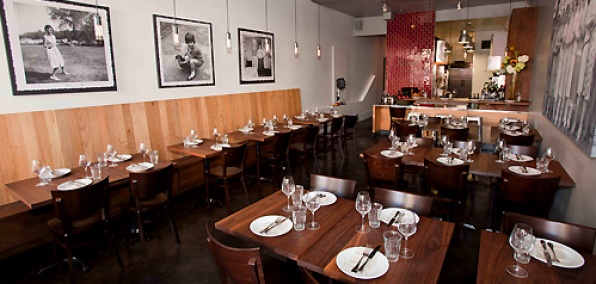 You like pizza. We like pizza. Everybody likes pizza.

Which is why, even with about 1,010 pizzerias in this city (half of which seemingly opened in the last three
months), we can agree that there's still ample room for more.



So without further ado...



Welcome Ragazza, a cozy nook of a pizzeria turning out thin-crust pies as well as handmade pastas
and roasts, opening tomorrow on Divisadero.



Decked out in the glorious colors of pizza—marinara-red brick tiles by the kitchen, blistered
crust-colored black walnut tables and banquettes the golden hue of melted cheese—Ragazza is where you can
stop in with a date for a casual 12-incher or two and a bottle of Chianti. And given that it's a
thin-crust option in a noticeably Neapolitan-deficient part of town, you're covered when you get an
immediate and crushing need for old-world-style pizza.



But if there's one word to convince you why you'd want to come here over the 1,009 other spots, that
word might be bacon. Like its offshoot pizzeria all the way out in Glen Park, a quarter of
Ragazza's pizza list involves bacon. And thanks to the extreme heat of the wood stone oven, the bacon in
the Heirloom or the Potato actually tastes more like it was physically embedded in the
crust.



Think of it as the Italian version of a BLT...