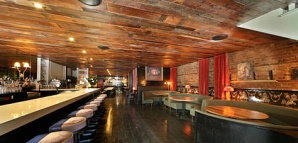 If you come up short on vacation days, you can go a lot of places without leaving the West Village—
Barcelona
,
Havana
and...
Morandi
, off the top of our heads.
Well, you can add India and various parts of the South Pacific to the list with
Elettaria
, a globe-trotting bistro opening today just off Washington Square.
The restaurant's rustic barnwood ceilings are brought to you by
Allen & Delancey's
designer, but the loungey vibe and vintage décor—faded velvet curtains draped behind plush banquettes, old-world paintings, multicolored pony wallpaper in the bathroom—make it feel more like a sophisticated urban lodge than a far-off corner of the world.
Dishes like the
"Sag Paneer" Ricotta Gnocchi
show off the spot's subcontinental fusion skills, but we're most excited about the decidedly tropical tiki selections, including the classic
Mai Tai
and other intense rum runners like the Jamaican
Zombie Punch
(1934)
, and the nautical
Navy Grog
(1941)
, as we always prefer our rum in historical context.
The menu is from a former Craftbar chef, so you won't have to worry about filling your belly, and there are Freeman's and
Death & Co.
alums behind the bar, in case you want something a little less tiki-inspired.
You know, something from a more familiar island.