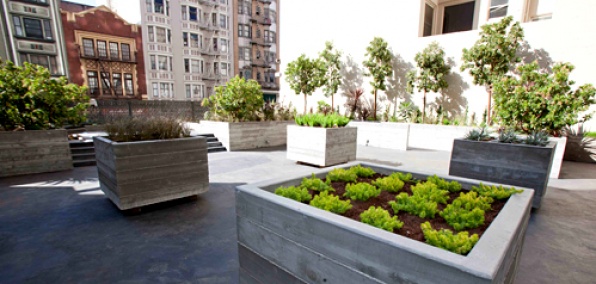 Look at it: it's damn nice out there.

In fact, we've seen the forecast, and it's going to be 70 and sunny all weekend long.

You might call it rooftop weather. Well, this just in: the forecast is also calling for a new rooftop this Friday…

Introducing Jones, an open-air refuge for post-work cocktails and brunch, opening Friday above Geary in the Tenderloin.

Your journey begins on Jones, at Gaylord Suites. Or actually, next to Gaylord Suites, where you'll step past some steel gates and walk down a long corridor. As long corridors often do, this one leads to something magical: a tree-laden roof deck that's strategically positioned to block the wind. (Handy once this nice spell inevitably passes.)

For now, you'll come in after work, stop by the gunmetal-blue steel bar and order a couple martinis before retiring to one of the tables. But in a few weeks, the kitchen—essentially an Oola Restaurant pop-up—will go into full force, so you'll be able to get everything from beer-steamed mussels to pizzas by night, along with chocolate-stuffed French toast or chicken and waffles for brunch.

To repeat: that's chocolate-stuffed French toast brunch on a roof.