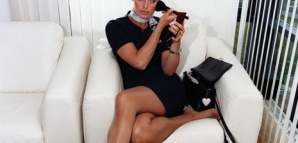 The women formerly known as stewardesses have always had a certain globe-trotting je ne sais quoi. But with the golden age of 60s air travel almost completely erased, it's easy to miss the mystique if you aren't watching closely.

Fortunately, that's why there are photographers. Brian Finke just deplaned from a two-year safari with the women of the friendly skies, and he's come back with some serious wisdom and a few photographs. The fruits of his labor came out yesterday—a coffee-table book aptly titled Flight Attendants—and the photos are on display at ClampArt all month, if you prefer your art in gallery form.

The pics range from ladies on the job—like the above shot of an IcelandAir attendant preparing herself—to the loungier side of the profession, like a shot of two pool shark Air Asia attendants in Kuala Lumpur. All told, the book passes through three continents and 20 airlines, as well as a surreal flight attendant training center in a hangar in Iceland, complete with fake planes, fake fire and very real smoke.

The old-school mystique of the flight attendant is very much alive, apparently, in Asia, where designer uniforms and impeccable manners are still the rule. For a domestic counterpoint, Finke spends some time with the women of Hooters Air, where the uniforms have a somewhat different aesthetic.

Also, we hear the wings are good.