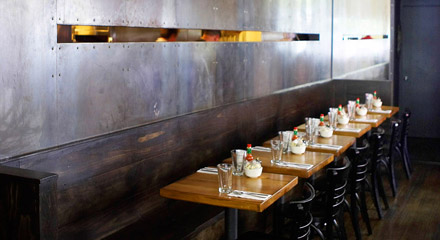 Every so often, a place comes along to remind you that it pays to keep it simple.

Ditch Plains does just that.

You may have already heard the buzz on this hot little oyster shack in the West Village opening "officially" on Monday, but here's the deal. Marc Murphy wanted to open a place where he and his friends could just grab some oysters and beers (all to some good rock and roll music). Trustworthy man, that's exactly what he's done.

You can snag seats anywhere in this casual industrial steel-encased joint, even on the windowsills. Oysters are done with sweet simplicity—they're incredibly fresh, priced well, and only one type of oyster is served each day (and they're always East Coast—Biggie would've been proud).

The rest of the menu is surf-snack fare like lobster grits, oysters egg benedict and fried clams—although a must-try secret is the off-the-menu Ditch Dog, a brilliant (accidental) concoction of mac and cheese on a hot dog, baked to a golden perfection. Kick it back with a beer or one of their many half-bottles of wines and champagnes (priced near retail, no less). Or try their new signature summer drink, the Hot Corona—a glass of Corona with ice, a shot of tequila and Tabasco, served with a salt rim and lime.

Ditch is laid-back, but also chic enough to make a good casual date spot for grabbing oysters and some half bottles. Start early (7 a.m.) or stay late (until 2 a.m.), when things will likely get fun, loud and oyster-shooter-mad.