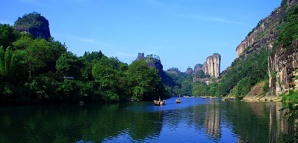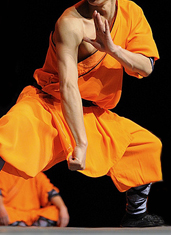 Life is full of challenges.
Some of which can only be solved by splitting a brick in half with your bare hand.
Welcome to
Taining Martial Arts Academy
, a secluded Chinese monastery devoted to the sacred art of kicking ass, taking reservations now.
If you remember Christian Bale's training in
Batman Begins
, this is about four weeks of that. (Crazy Liam Neeson facial hair not included.) After a four-hour drive into the mountains, you'll see it: an old Bruce Lee-style compound filled with bare-bones training spaces and sage experts with a knack for hand-to-hand combat.
Over the next month (at minimum), you'll get the kind of round-the-clock education that requires solitude, superhuman concentration and a Yoda-level instructor. Your first job: choosing one of the dozen kung fu styles on offer—including the mysterious White Crane style, a specialty of the province. Then you'll be in for seven hours a day of agonizing punching drills, meditation, running and the occasional intramural tussle. By the time you're finished, you'll be able to split bricks with your hand. Hopefully on the first try.
And when you're not honing your chi, you'll sleep, eat and dress just like an acolyte, which means a no-frills room, an orange jumpsuit and a whole lot of egg noodle soup. You might even pick up a bit of Mandarin along the way.
In case you can't adequately express yourself with roundhouse kicks.