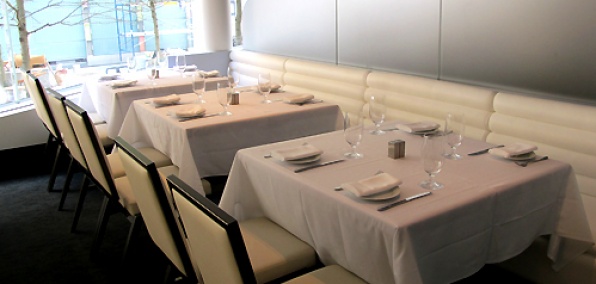 A mound of General Tso's from Panda Express.
A fist-size Cinnabon.  
The sublime offerings of Sir Orange Julius.
The sacred rituals of the mall food court are forever etched in your superego.  
And it's not that we miss the hairnets and the proximity to Brookstone, there's just something sexy about a food court...  
Here for your food centralizing pleasure is
FoodParc
, an upscale, white-tableclothed, futuristic food arena, opening Wednesday at the Eventi hotel in Chelsea for quick and dirty upscale lunching.  
If the Starship
Enterprise
had a VIP food court, it might look something like this: you place your order at a computer terminal, get a text message when your food is ready, sip lunchtime Peronis 
and sink into a table in the
stadium
-
style
-
seating dining room. 
You can grab pastries and coffee from the café, flatbread sandwiches from a brick-oven vendor, or dumplings and noodles from the Asian spot, or just head right to the 3B's counter for burgers, bacon and beer.
Once you've gotten a text and picked up your tray (go dumplings, bacon, strong coffee and a martini), walk back to the aforementioned dining room, find a corner to settle in and begin the fastest three-martini lunch in town.
And in a month, FoodParc will live up to the "parc" with the opening of a giant outdoor green space for dining, carousing and watching cinema gems on a giant overhead screen.
Mrs. Fields would've loved this.