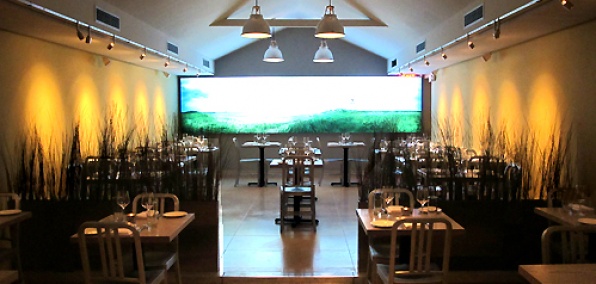 It's a good day for planning ahead.
Soon, when things get frigid, icy and desolate, you're going to want a quick escape. Sure, there's your old safe house in Antigua, but we're talking West Village quick. If a beach were involved... and Belgian beer... and champagne and truffle mussels... that would be nice too.
Here comes nice...
Introducing the new, beachy outpost of
Flex Mussels
, open now for the first time downtown in the West Village.
If you're looking to rewrite your short-term memory of this past summer to include breezy beach days spent wading in the shallow surf, dozing off under the fading sun and cultivating a Hemingway-esque beard, Flex is your new home base for delusional summer pining: the room is small but airy, colored in pastels, decked with light wood and grassy reeds, and anchored with a big mural of Prince Edward Island.
Make this your scene for an upcoming casual weekday date, and you'll be rewarded with serenity and a menu of beer and mussels from folks whose single-minded, psychotically intense focus on bivalves is somehow comforting.  
Like at
the UES location
, you'll have your pick of 23 rotating varieties of the fruit of PEI's shores, ranging from a white wine/garlic classic to complex stews like Thai curry coconut and lemongrass and parmigiano cream-drenched black orbs of oceany goodness.
Because no summer is complete without a complex stew.