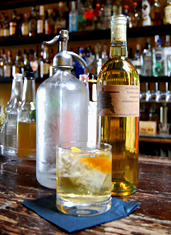 Ah, the martini.
Your go-to nectar of gin and vermouth, a few olives tossed in for sustenance.
But sometimes you might not need all that gin. Or even those olives...
Okay, you generally do. But here's a reason to reconsider.
Welcome
Sutton Cellars Brown Label Vermouth on Tap
, a white wine out of Sonoma fortified with brandy and a proprietary blend of botanicals, available now on tap at The Alembic and at Long Bar by week's end.
Contrary to what the Bond movies might have you believe, you can drink this standard martini ingredient on its own. Actually, the Europeans have been downing vermouth straight up on the rocks, sans whiskey or gin, since the 18th century—which means it's tried and tested, and time for your carafe-full. But if you're so inclined, you can cocktail it up, pour in soda and add a twist of lime.
And now, the good winemaker/owner of Sutton Cellars is taking the hooch and infusing it with dried orange peel, chamomile, rosemary and other herbs, seeds, spices and flowers. And in an American twist, he's making full kegs available instead of just bottles.
Take that, martini.