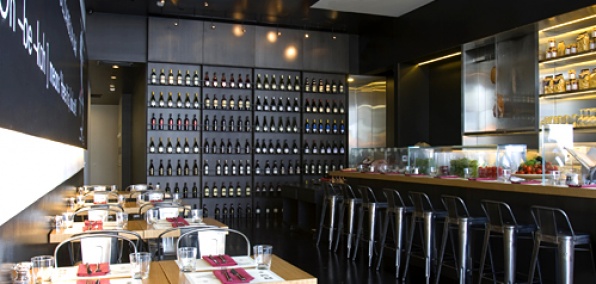 So you've got your sushi bars, and you've got your bar-bars.

Now, finally, you've got yourself a mozzarella bar.

Introducing Obika, a new cheese-haunt stowed upstairs in the Westfield Century City mall, opening Wednesday.

It's the sort of place that, around lunchtime, you can envision being filled with an only-in-Century-City swirl of power-lunching lawyers, shop-talking CAA agents and unemployed actresses indulging in some retail therapy.

Grab a table on the left if you're lunching with a few colleagues, or a seat at the counter on the right if you're on a casual date and heading to a movie later on.

They've got three types of mozzarella, all flown in from the Paestum and Agro Pontino regions of Italy three times a week. There's the classic, the smoked Affumicata and the sweeter, creamier Stracciatella di Burrata. You can order any one of them on its own, or try them in salads, on roasted breads or paired with entrées like salami, salmon or speck. (There's no shame in working on speck.)

And as for the "bar" part of "mozzarella bar," you can start with Ginger Basil Martinis and tequila-based Grapefruit Frescas, before moving on to a rare bottle of Sicilian red.

We especially recommend this if you're about to see Going the Distance.