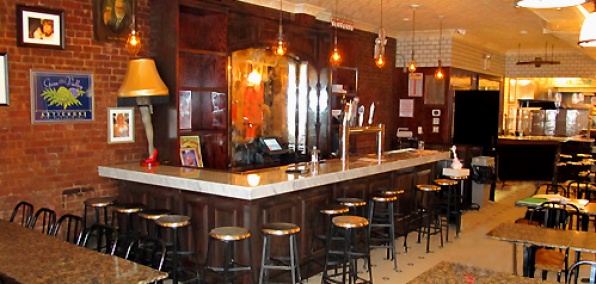 Bigger is not always better.

Except when it is.

And when it comes to near-mythical dough bombs slathered in artichoke dip and then passed off in the guise of pizza... well, you can probably guess.

Welcome to the second coming of Artichoke Basilles, the sliver of a pizza shop on 14th Street, where the line can easily reach Shake Shack proportions, now reborn and opening as a sit-down restaurant at the strategic intersection of Avenue and 1Oak, open till the ripe hour of 5am.

If you've made a habit of artfully devouring a slice on Artichoke's 14th Street sidewalk, you'll be happy to note that the menu here is exactly the same. Not the same: the space. After a casual stroll around the corner from the marauding Meatpacking hordes, you'll arrive at an exposed-brick, white-tile Italian café that sort of looks like Pastis-Light, complete with actual tables and a real bar.

And it's here where you'll sit down, take a moment to contemplate the glory of a life that brought you to this point, grab a house specialty artichoke beer and unwind from an evening of early-fall rampant socializing.

Should you be in a hurry—and you have your reasons—just grab a quick slice from the separate storefront counter on 17th Street.

You wait for no pizza.