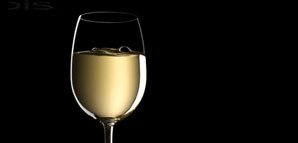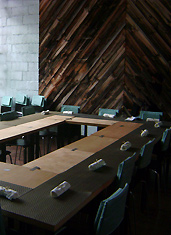 We need you to be extra discreet today.
You see, the place we're about to reveal to you is so off-the beaten-path, it almost feels like it should be a secret.
Behold:
Journeyman
, the brand-new, tucked-away Union Square locavore-cathedral, soft-opening this Wednesday and now accepting reservations for big groups.
Walking up to Journeyman feels a little like you're trespassing in a mechanic's garage. It's located on a short, dead-end street, and there's no signage out front save for a metal beam sticking out of the ground with "Journeyman" cut into it (incidentally, we understand this is also how the band Journey got started).
But after some keen usage of your phone's GPS and a little bit of testicular fortitude, you'll walk inside and breathe in the minimalist SoHo-artist-loft-style interior (high ceilings, bookshelves), where you and about 35 of your friends will be able to hold a massive, multi-course feast. (Think of it as a permanent dinner party space, with a professional kitchen.)
As for what you'll be feasting on: the menu changes daily, and they use only local ingredients. Think pigs from North Face Farm in Duxbury, fish from Cambridge-based New Deal Fish Market and herbs from a huge, floor-to-ceiling vertical garden housed right in the dining area.
And to drink: small-batch organic wines and local beers, also constantly changing.
Unfortunately, the beer will not be kept in a floor-to-ceiling vertical cooler.