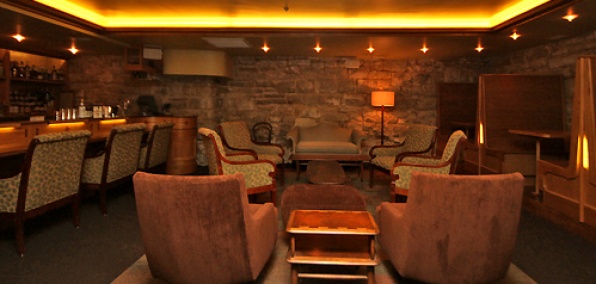 Basements can be dark, terrifying places.

A good rule of thumb: make sure there's a lot of really good beer on hand—you know, just to calm your nerves.

Actually, this works if the basement is neither dark nor terrifying.

If, for instance, it's like Watershed, a new underground lair now open in River North where you can curl up with nearly 50 beers, maybe a few cocktails after a hard day and, if things get really tense, a handful of barbecue pork rinds.

Watershed is in the basement of Pops for Champagne, where once-upon-a-time jazz was performed. The jazz has been moved upstairs, and the basement has been reconfigured into a wood-paneled space with the same limestone walls, so now it sort of looks like your grandfather's rec room was featured on a makeover show (plush armchairs, Pullman car booths). But they didn't mess with Granddad's penchant for a cold Schlitz.

So while tourists are sipping champagne and tapping their toes upstairs, you'll come down here for an evening of oysters, charcuterie, Wisconsin vodka, Iowa rye and bubbly from Illinois. And nothing against your thirst for Bell's Octoberfest, but pay attention to that cocktail list, created by a former Mercadito mixologist. The Burn It and Let It Swim uses Michigan-made rum spruced up with a flaming orange peel.

As all the best Michigan rums are.