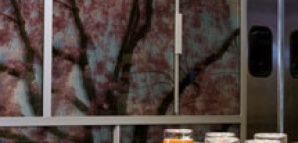 You generally know what to expect from Beverly Hills.
Italian restaurants that never left the 20th century. Starlets frolicking around hotel pools. Spectacularly unsubtle plastic surgery. And tourists. Lots of tourists.
But you've never equated the neighborhood with conveyor-belt sushi—until today's official
Luckyfish
debut.
You might think the bright, come-as-you-are restaurant represents an unexpected new direction for the company responsible for your nights at Sushi Roku, BOA, Katana and
Robata Bar
over the years. And, well...you're right. But their plan is to utilize their reputation for reliable seafood to alter your view of the generally disreputable
kaiten-zushi
style of pulling your dinner off an assembly line. (If they happen to spin it off into a wildly lucrative franchise, so be it.)
Their higher-end take on the concept means as many as 50 different menu items like
YellowtailScallion Rolls
and the curiously named
Taco Rolls
(marinated octopus topped with spicy tuna) are circulating at any one time—though the gray radio-frequency chips under each covered dish automatically ensure none circulate for more than one hour. (We're told the health department would've been fine with four hours, for the record.)
If you're not convinced, or just want some
Chilean Sea Bass Teriyaki
and house-infused pineapple shochu, summon a server and order the old-fashioned way.
You won't get a raw deal.