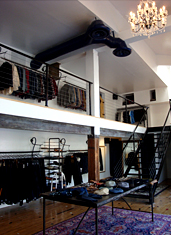 Tomorrow is September. The season's about to change.
In the coming months, you're going to be wearing a bit more denim.
So it's time to inject your wardrobe with a little autumnal Americana, via the one place you can always count on to supply it: Asia.
Introducing
Self Edge
, a new shop stocked with all kinds of rare Japanese denim, opening tomorrow on La Brea.
First off, you should know that this isn't the place for crazy jeans festooned with studs, tassels or machine-gunned hole patterns. Rather, this is a simple denim emporium with about 50 styles in different shapes and sizes. They're all indigo or black, all classic cuts and all made of raw selvage denim (so they'll break in fast and last until you're 80).
And because they've also got shirts, you can pair your Iron Heart jeans with a thick Flat Head flannel, loosely woven to create that all-important fuzzy top layer as it ages. The result is a look that'll have you ready for the year's remaining backyard barbecues, pub crawls and football games.
Or pretty much any other activity in LA...