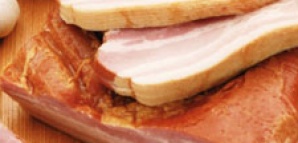 With beef losing a little cachet over the recent massive recall, it might be time to get reacquainted with white meat.

Or should we say with the other white meat. While you've been busy with steak, bacon has been learning some new tricks.

The latest comes from the free-range artisans at D'Artagnan, who have just unveiled their line of heritage bacons, with boar leading the pack as the leaner choice and duck filling in for a greasier grilling experience. Either way, those eggs are about to take on a decidedly different flavor.

There's also hickory or applewood from the more traditional beast, if you don't want to mess with a good thing. And, of course, you won't have to worry about nitrates, antibiotics, hormones or getting a brunch reservation.

We've been fans of D'Artagnan for some time. They made their name 20 years ago by single-handedly introducing foie gras to the States, and they've been delivering the city's chefs—Daniel Boulud and Laurent Tourondel included—their best cuts ever since. Most of their sales are to restaurants like Jean-Georges, Le Bernardin and Per Se, but they still give amateurs a chance at some of the more eccentric meat options—like ostrich tenderloin and buffalo ribeye steak.

Suddenly, beef seems so...unnecessary.