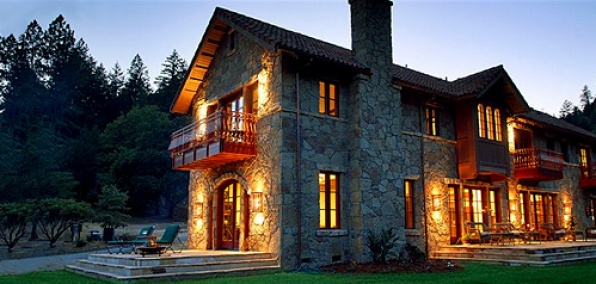 Everybody's getting out of Dodge next weekend.

To that we say: why put off till next weekend what you can do this weekend and next weekend?

Especially when something like a villa in Sonoma—complete with wine caves, terraced vineyards, tennis courts, a double sauna and seven bathrooms—is involved.

Allow us to present: BeautifulPlaces, your online resource for unearthing the most extravagant, vineyard-side, wine cave-equipped estates that you can call home, taking reservations now for all your getting-away needs.

While you might think that every single one of the villas is as lavish as Villa Andrea (what with its cobalt-tiled pool and spa, THX surround sound screening room and three guesthouses...), the fact is that they run the gamut (i.e., some might have a boathouse instead of that seventh bathroom). Some even have historical roots in addition to their grandeur—like Casa Sebastiani, which was the original home to the Sebastiani clan dating back to 1825.

And it doesn't end there. Meaning: you're not limited to Sonoma, Napa and Mendocino (though they do have 40 properties up there). Jet down to Mexico, where an infinity pool and two full-time chefs are at your service. There are also spots in the Bahamas, in Provence and all over Italy.

Which brings us to next weekend...