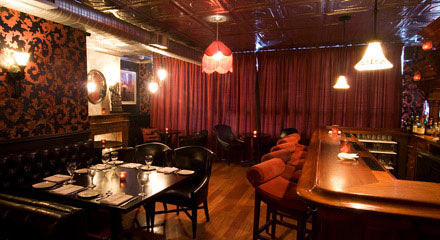 Certain rendezvous require discretion. And certain restaurants are built for it.

Introducing Tre Dici Steak, a low-key steakhouse that will keep you and say, your mistress, sated and out of the public eye. Just follow our simple steps...

Start by finding your way down off-the-beaten-path West 26th Street. Pass by sister Italian restaurant Tre Dici—with its screaming-loud modern sign—and you'll find a subtler red door with a small sign whispering Tre Dici Steak. Slide inside and call the pre-war elevator—not to worry, there's a prize at the end of the shaky ride. When you reach the second floor, the elevator ushers you into a surprising and richly decorated New Orleans boudoir of a steakhouse. Dark woods, crimson and gold printed wallpaper and leather captain's chairs will make your tryst all the more comfortable.

Settle in to a corner table, summon a martini and relax—the hard part is over. You won't find anyone you know, but you'll find classic steakhouse fare—tuna tartare, a 16-oz N.Y. Strip and a Colorado Rack of Lamb—and some more interesting selections. The Kobe Beef Ravioli with Black Truffle and Caramelized Onions piqued our interest. And if you ask nicely, they may even bring you the 20-layer crepe-and-crème dessert from the original Tre Dici.

Try not to make a big deal about it.