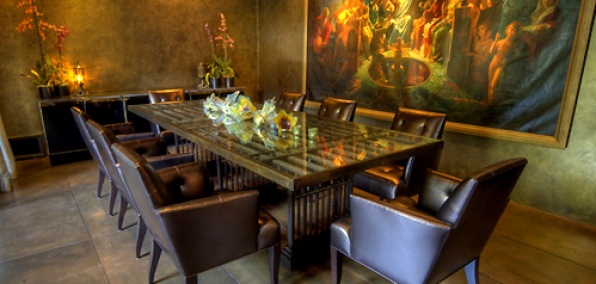 You have certain bucket list-type aspirations for your life.

To sell a three-picture deal to Sony about Mexican female wrestlers. To party for 48 straight hours in Seth MacFarlane's sex kitchen. To bask in a wine-soaked feast in a Lloyd Wright home.

You've accomplished the first two. It's time to tackle the third...

Presenting the Provisions Dinner at Sowden House, an evening of wine and merriment in a landmark 1926 property, now taking reservations.

First of all, let's come clean. It's not a home by that Lloyd Wright. This residence was designed by Frank's son, Lloyd Wright, an accomplished architect in his own, er, right. And this house—6,000 square feet of Old Hollywood glamour on Franklin Avenue—is one of his best. Scorsese liked it so much he shot parts of The Aviator here.

So: you'll make your way to Los Feliz and enter through the front, exploring the various nooks and crannies of the place and eventually making your way back to a courtyard that resembles a Mayan ruin (only less ruin-y).

It's here where you'll sit down, relax and embark on a five-course feast of fresh, seasonal goods. And to wash them down, you'll pair each course with wine from eclectic Melrose shop Domaine LA.

Then it's over to a Frank Gehry home for dessert...
Note:
<a target="_blank" href="http://www.provisionsla.com">Provisions Dinner</a> at <a target="_blank" href= "http://www.sowdenhouse.com">Sowden House</a>, September 25, 7pm, $85, <a target="_blank" href= "http://www.brownpapertickets.com/event/122507">tickets here</a>