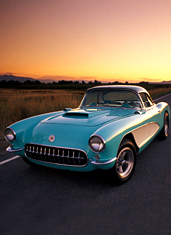 It's day three of the monsoon.
The skies are gray, the streets have become rivers, and Wednesday has never felt more Wednesday-y.
So we thought we'd bring word of a reason to look forward to the weekend, besides the fact that it's going to be all clear skies and sun rays once again. And yes, it involves BBQ.
Presenting the
Vintage Car Show BBQ
, a one-day event going down this Sunday at the Biltmore Bar & Grille in Newton.
Not that this needs much explaining, but think of this as the sort of fun, outdoor BBQ Jay Leno would throw when he's not busy going back on his word and screwing over certain ginger-haired, Irish-blooded comedians from Brookline (Team Coco all the way, baby).
So picture it: it's Sunday. You're not at work (always a plus). Instead, you're outside at the Biltmore noshing on their solid BBQ (think: marinated mini pork shanks called "hog wings" and grilled frankfurters called "hot dogs").
And there, parked before you: over 20 mint-condition classic rides, like a 1961 Cadillac convertible (think: Henry Hill's drop-top in
GoodFellas
), a 1931 Ford Model A Coupe (John Dillinger's favorite, possibly for its getaway ability) and even a '68 Camaro similar to the one Matthew McConaughey's character cruised 1970s Texas with in
Dazed and Confused
.
Eight words: all right all right all right all right....