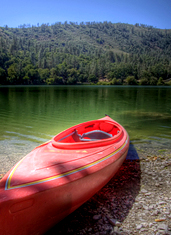 Working out in the Texas heat can be dangerous.
The unrelenting sun, the unrelenting spandex and your incessant Usain Bolt lightning poses on the Katy Trail are a recipe for trouble.
You need a workout with more... splashing.
Presenting
White Rock Paddle Co.
, the first kayaking outfit on White Rock Lake in over 15 years—and the most fun you can have with a boat around your waist, now open.
You'll arrive at nearby White Rock and meet Amy and Angeline, two kayaking warriors who, like you, have paddled everywhere from the Potomac River to the waters of Malaysia. After a brief overview on oar handling and forward stroking (yes, we're still talking about kayaking), you'll choose your vessel, strap on a life jacket and hop in.
You'll start by floating down a narrow tree-lined path, perfecting your gondolier-like slaloms between low branches and swans. Then, as your confidence soars, you'll hit the open waters and go for speed. Don't be surprised if your shoulders begin to burn—you'll be working your arms and core nonstop as you shed upwards of 500 calories per hour.
And because they also rent two-person kayaks, this could also work as a fun, inexpensive, outdoorsy date activity. Just be aware: it will have to be nonalcoholic.
Unless of course you bring your oar flask.