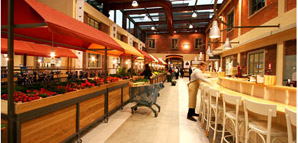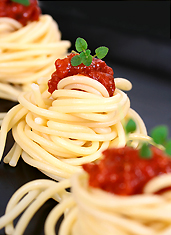 Not every nation deserves a massive shrine to its culinary greatness.
But not every nation is Italy.
So we're going to bend a few rules and give Mario Batali and Joe Bastianich a little rope as they get set to unveil their 37,000 square-foot Flatiron tabernacle of Italian delicacies.  
Its name:
Eataly
, and with 20 food departments, restaurants, bars, gourmet grocers and butchers, it's the glorious sprawl of pasta, olive oil, cheese and fiery Italian women (that last one may just be us projecting) that you can always use in your life, opening a week from today.
Considering the sheer immensity here, you might need a plan of attack. At least to start. To that end we've enlisted Mario's partner-in-pasta, Joe Bastianich, to share his favorite spots for mastering this Italian job.
Breakfast:
Set along an alleyway of 14 food and drink stands, the Lavazza espresso bar is where you'll order a double and an olive oil croissant. Consider stuffing an entire Bodrato milk chocolate bar inside. (A little chocolate manual labor can go a long way.)
Lunch:
Just to prove it can be done, Joe goes vegan for lunch at Verdure—one of five sit-down restaurants spread around the central rotunda—with a massive bowl of
Pappa al Pomodoro
with dollops of peppery olive oil floating in the middle.
Dinner:
The meat-inspired Manzo is your white tablecloth, dapper-waiter, carnivorous cavern. Joe suggests the
Carne Crudo
dipped in olive oil, salt and quail egg.
And that's just the appetizer.