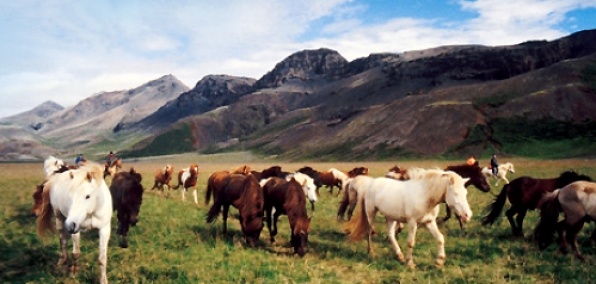 Let's turn the clock back to April.

You were all set for a few weeks of romancing heiresses on the French Riviera, but a certain volcano—cough, Eyjafjallajökull, cough—had other plans. So instead, you spent the night in O'Hare, and the heiresses just got lonelier.

In short, Iceland owes you. And it's time to collect.

Introducing Eldhestar Volcano Horses, a rugged horseback trek across southwestern Iceland, taking reservations now.

Your voyage begins at a little hotel/farm 30 miles west of Reykjavik. You can camp out here and take day trips if you like, but the real action begins the next morning, when you and up to 19 fellow travelers begin your equine journey across the countryside. You'll take nothing but a sleeping bag, a guide and your steed—a long-haired, pony-size breed unique to Iceland. Together, you'll gallop past geysers and ash-spewing peaks—including the one that canceled your flight earlier this year—with the occasional pause to sample the landscape's natural hot springs. (Those are for you, not the horse.)

At night, you'll hole up in one of your hosts' bare-bones mountain huts, break out that sleeping bag and get well acquainted with the floor. All told, you'll be riding about 100 miles over five days—and if you've bonded with your beast, just drop a few extra krona and buy him on the spot.

You've always had a soft spot for souvenirs.