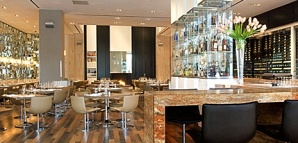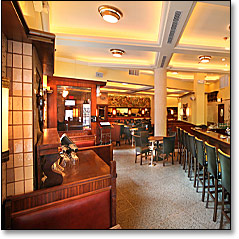 It's been happening forever: downtown flows one way, uptown ebbs the other. And lately, restaurants below 14th Street have been embracing their neighborhood roots and taking it back to (ye) old school New York. Uptown, prim and proper as ever, is still the proving ground for Big Chefs, crafting upscale boîtes around seasonal ingredients in the cozy confines of Big Hotels.
So in the spirit of togetherness, we bring you the two newest restaurants in each scene. Kumbaya...
Downtown: Commerce
Originally opened in 1911, the small asymmetrical space has had a feisty history, including a stint as a speakeasy (you know, back when they were necessary). Long dormant for a meticulous renovation, you may have walked by the place without ever noticing it. This time around, we suggest you walk in.
You'll find a space that feels like the history of downtown through the decades: original 1930s floors and bathrooms, an impressive 1941 Brunswick bar and retro touches. And the food matches the décor—there are chops and oysters, a sharing menu with whole chickens and legs of lamb ceremoniously brought to the table before carving, as well as market specials like the
Fricassée of Escargot
.
And if you're heading uptown...
Uptown: South Gate
...we recommend a stop-in at the newly minted Essex House showpiece, South Gate. You'll find a large-but-warm restaurant with the type of measured haute-local cuisine you've come to
expect on CPS
. Chef Kerry Heffernan (Eleven Madison Park), the pristine décor (high ceilings covered in arty mirror tiles, modern fireplace) and seasonal menu (try the
Butter Roasted Lobster
with kimchi) all feel as if they've been in the space for years.
But to really enjoy South Gate, skip the main dining area for a seat at the large marble bar facing the park—there's even a nifty extension that allows you to sit across from your date. Or reserve the Studio Tasting Room, a slender boardroom-type setting with a 20-seat table perfect for, say, post-boardroom celebration.
We leave it to you to decide.