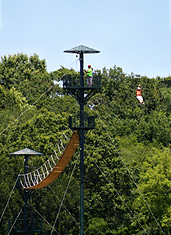 It's Wednesday afternoon, which means the weekend is in your sights.
Usually, that's a period reserved for bottomless mimosas, poolside lounging and the occasional Triple Lindy.
But this weekend you're thinking bigger. You're thinking of an outdoor activity that involves a helmet, a harness and an unblinking trust in the strength of wire rope.
Presenting the
Wired Zipline Course
, the tallest zip line outfit in all of Texas, now taking reservations for your next high-flying stunt.
First thing you'll want to do is take I-20 for 60 miles to a heap of cable and steel in Canton, Texas, where you'll meet your zip-lining instructor/ninja for the day.
After a quick safety briefing, a few runs on the practice rope and the signing of your life away, you'll throw on a harness, a helmet and thick gloves and climb a never-ending spiral staircase up to the top of Texas's tallest zip line, 95 feet in the air. Go ahead, look down.
From here, you'll attach yourself to the line, push off the launchpad and begin your breezy descent, flying at speeds of 45 mph across four different zip line runs and some 3,500 feet of line, with nothing under your feet except marshy ponds, trees and the occasional stupefied turtle.
We hear this is how Stallone got ready for
Cliffhanger
.