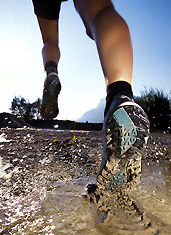 You're one tough SOB.
You casually stand next to mountains and slap them down with the back of your hand. You're also known to lean wrathfully into a heaping plate of BBQ.
So we'll cut right to the chase: we've found your next tough-man competition.
Introducing the
Tough Mountain Challenge
, a brand-new, cross-discipline 5K mountain race (and all-you-can-eat BBQ), happening next Saturday at Sunday River in Maine and now accepting registrations.
First of all, let's make this clear: this is no mere race. This is a full-frontal assault on the limits of physical endurance that's one part Lance Armstrong, one part Bear Grylls and three parts grit, mud and snarl (to sum up: that's five parts).
You'll check in, warm up and watch the clock strike 1pm. Then, it's on. You'll traverse by foot, mostly uphill, alongside about 200 other competitors (both tough men and tough women) across two mountains in the majestic Sunday River range.
But it's the 10 lengthy obstacle-laden terrains that will really test your mettle (think: mud crawls under barbed wire, perilous downhill canyon running, a grueling ropes course), finished off with a last-ditch sprint through a giant ring of fire (do it for Cash).
Your reward for all this toil: brews, a live blues band and an all-you-can-eat BBQ of ribs and chicken for the rest of the afternoon.
This is no time for a protein shake.