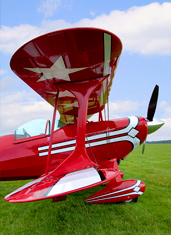 You've traversed Wine Country.
Probably via train, convertible or maybe the occasional motorcycle sidecar. So we think you're ready to take it to the next level...
And by that we mean: to 3,000-feet altitude, in the open-air cockpit of a 1940s warbird.
Enter
Vintage Aircraft Company
, an operation with a fleet of vintage biplanes and World War II-era fighters hell-bent on helping you attack the vineyards and the coastline with newfound zeal, offering flights now.
Now, your best bet's probably to go during the week, but if you head up this weekend—and it's never too early to plan when fighter planes are involved—you can walk right up and be on a jet in no time.
You'll have your choice of aircraft, including an entry-level 1942 Boeing PT-17 Stearman, or a speedy '44 P-51K Mustang. We'll suggest the '43 Curtiss-Wright P-40 Kittyhawk—it's one of only three dual-control fighters of its kind left in the world, so the pilot might just let you take the wheel. (If you see the Transamerica, time to turn back.)
The pilots will take you up to St. Helena and as far west as Glen Ellen, out to Tomales Bay or south towards home, flying as high as 3,000 feet above ground. Just be sure to politely, humbly request a few aerobatic maneuvers for your ride—a loop, a barrel roll or a hammerhead. Or, if you feel like living a little, they'll go into the infamous Cuban Eight.
And if you don't know what that is, now's a good time to find out.