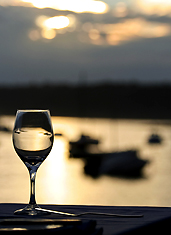 Great things happen on boats.
The seafood is as fresh as the laws of physics will allow, beer flows like wine, and if you sail out far enough, you can live free from the laws of any nation.
And even if your boat isn't going anywhere at all, it's still possible to get exactly where you want to be...
Introducing the
Mary A. Whalen
, a grand tanker of a dame, open this and next Sunday evening for your deckside BYOB picnicking pleasure.
Now, youth is not among Mary's many virtues. In fact, her 613 tons have been prowling these Atlantic waters since the summer of '38.
But what she lacks in youthful charm, Miss Whalen more than makes up for in freedom. As in, your freedom to enjoy a BYOB picnic on her spacious red metal deck.
Arrive anytime after 5pm, throw down a blanket, and settle in for a carefree Sunday sunset among like-minded nautical merrymakers. It's the kind of place where you'll find yourself sharing heavy pours from your suitcase wet bar with the next blanket over, and accepting a plate of deviled eggs in return.
And should you find a moment to step away from your gimlets and guac, take a peek below deck, where Miss Mary's eight massive cargo tanks will be turned into gallery space in the near future.
And like that, your performance piece about Jacques Cousteau has found a home.