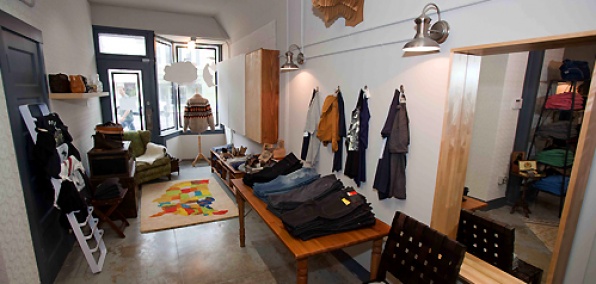 It's anyone's guess how our summer's going to unfold.

But based on the last few weeks' impenetrable marine layer, ramping up for fall is a pretty good idea.

So, we've found a new spot where you can get started...

Introducing Seedstore, a modern mercantile shop stocked with old-school clothing brands, as well as a few up-and-comers, opening tomorrow.

Formerly part of the old Busvan warehouse, Seedstore's vibe is a sort of Wild West saloon meets '70s crash pad that's really just missing a bar. Which means you'll find a table of raw denim Hudsons under the mounted cardboard bison head, and below one of the rope chandeliers are zip-up hoodies and thermals from Alternative Apparel for when you're Ocean Beach-bound.

Also sprinkled within the mix are flannels like the woodsman shirt from Woolrich Woolen Mills and jackets like the vintage Americana-inspired military blazer from Superdry.

And since shopping is also better paired with drinks, you'll want to join their upcoming bourbon-paired trunk shows.

Bringing us back to ways to cope with this summer chill.