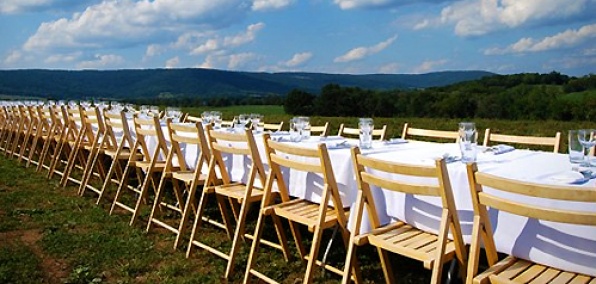 There are few things more salt-of-the-earth beautiful than a farm.
It reminds you of an agrarian lifestyle devoid of boardroom meetings, provides you with the bounty of the earth and supplies the occasional well-proportioned daughter.
It's also an ideal place for a lobster dinner at a never-ending table…
Introducing
Outstanding in the Field
, an al fresco supper series making its way across North America, now taking reservations for its stopover next Thursday at a farm in Maine.
It's basically the kind of dinner you could imagine Paul Giamatti attending in some deleted scene in
Sideways
(sans self-loathing, glugs from spit bowls and Thomas Haden Church's ass).
To become one with the earth—and also see some
really, really cute pigs
—you'll first need to make your way to the grassy expanse known as the Four Season Farm in Harborside, Maine.
Upon arriving at 3pm, you'll be greeted with a glass of wine, mix it up with fellow attendees and take a 30-minute tour of the farm (keep your eyes peeled for moonshine stockpiles).
Around 4pm you'll join the other guests (usually around 150) at one of the longest tables New England has ever produced, and spend the next three hours feasting on a wine-paired, multicourse meal (organic grass-fed grilled beef, grilled lobster) prepped by a local chef outside in the farm's field.
Think of it as the Amish starter experience.