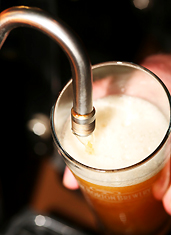 It's Friday.
Life is surging through your veins. You could bite a tiger.
So you're in no mood to be at the behest of a bartender. You're ready to grab life by the horns, bask in the power of free will. In other words, you want to be your own barkeep.
Say hello to the
Draft Master
, a newly installed draft system (and the first of its kind in Massachusetts) that allows you to pour your own beer, now serving at The Littlest Bar.
Yes, this is as good as it sounds. Already implemented in bars in Ireland (naturally), the Draft Master lets you bypass the bartender and pour your own glasses of Guinness and Smithwick's, freeing you up to employ your signature draft-pulling technique (it's a hybrid of Sam Malone, Moe from
The Simpsons
and Tom Cruise in
Cocktail
).
So here's how this will go down: tonight, you and a few buddies will claim the Draft Master table and start a tab at the bar (it's first-come, first-serve, so get there early). This will activate the system (essentially, two kegs under the table) along with the LCD screen on the tap that keeps track of every pint poured.
From there, you're at the helm, mixing Black and Tans, filling glasses to the brim and perfecting your Guinness-head shamrocks. The only catch: the system pauses after every couple of pints, just so things don't get too crazy.
Don't worry, they still will...