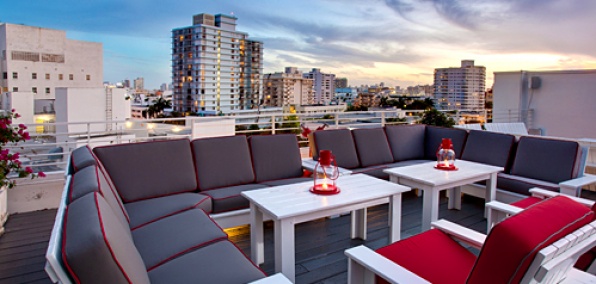 It's Tuesday, so naturally you're thinking about the weekend.

And specifically, rooftop cocktailing.

So consider this your official notice that the Rooftop Lounge at Townhouse Hotel opens this Thursday, just in time for your alfresco drinking plans later this week.

If this setting looks familiar, that's because it is. A few years ago, this was your spot for ringing in Art Basel on a waterbed with a couple of scantily clad fans of impressionism.

Alas, the waterbeds are no longer—you have to grow up sometime—but instead you'll find cushy gray Adirondack chairs, candlelit lanterns and those same glittering fifth-floor views.

So: come this Thursday after work, you'll want to enter the lobby of the Townhouse Hotel, take the elevator up to the fourth floor, get off and scale one more flight up to the rooftop. If you want, you can take your shoes off and walk barefoot across the hardwood floors, collecting a sake cocktail or a beer at the full bar.

And if you're hungry, you can track down a cocktail waitress and have them send up some sushi from Bond St Lounge, the hotel's subterranean sushi den.

Elevator rides always work up an appetite...