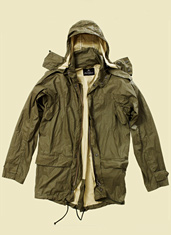 It's a hard truth.
Our summers are closer to fall in London than the tropical climes of Bali.
And since our dapper brethren across the pond have been outfitting themselves against the elements far longer than we have, it makes sense to take advantage of their expertise...
Allow us to introduce
Nigel Cabourn
, a cult line of shirts and jackets designed by a vintage military-obsessed Brit, now available in San Francisco for the first time at Unionmade.
Because Nigel works out of a converted gardener's house in the cold, gusty northern part of England, you'll agree that he doesn't have to come to San Francisco to understand our sartorial needs. You'll find lots of layering shirts like the reversible, double-cloth button-down and jackets (the fleece duffle coat with rope toggles comes to mind) that can withstand the wind and fog, as well as the occasional break of sun.
If your granddad flew missions for the RAF back in the day, you might have a general idea about the old-school quality to expect from these luxe replicas of military staples like the striped nautical shirt or two-ply henley. (Even if your hard-wearing activity is more late Sunday brunch and Bloodys, and less storming the front lines.)
Since the limited shipment is meant to be shared around the globe, Unionmade's owner has them tucked away for safekeeping. Just ask him nicely, and he'll pull out the collection for you.
After all, the guy in Bali won't need any of it.