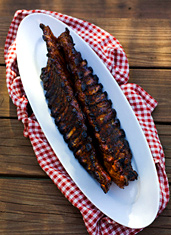 You're a curious soul.
You like to learn. Self-improvement is your middle name. You watch
NOVA
sometimes.
So when we stumbled upon a fascinatingly mouthwatering continuing-education course happening next week in Maine, we knew you'd want to know about it. Yes, we're talking about barbecue school...
Introducing the
School
of Pit Masters
, a one-day, 10-hour, hands-on immersion in the art of grilling meat, now taking reservations for next Friday.
Think of it as your fast track to BBQ glory, whether your idea of grilling involves a George Foreman or you just want to take your game from Southie-class to world-class.
You'll start by packing a tent, a sleeping bag, a fire pit and a dream (note: fire pit and dream optional) and making the hour-long trek to a farm in Eliot, Maine, where you'll sleep out under the stars. Rest well, because starting at 7am, class begins...
Your instructor: seven-time World BBQ champ and Kansas City BBQ master Paul Kirk (call him the grill whisperer), who'll show you how to perfectly barbecue all manner of meats, from brisket and pork ribs to chicken, sausage and, of course, the ubiquitous pork butt.
Using his own meat, he'll also school you on topics as wide-ranging as fire management, fuels (charcoal, wood, etc.), rubs, sauces, spices and even preparing for contests and starting your own restaurant.
Hey, you never know where this could lead...