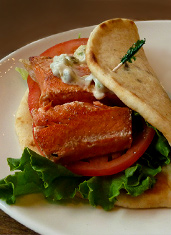 There have been whispers. Rumblings. Rumors.
Generally, you would never put much stock in such things, but when
Wild Boar Belly Naan Sandwiches
are concerned, you tend to pay attention.
Now it can be told: after months of engine revving,
The
Gaztro-Wagon
is finally set to hit the streets, spreading the joy of naan sandwiches throughout the land.
You have heard about Gaztro-Wagon. It opened a few weeks back, but so far its "wagon" was really just a spare, decidedly non-mobile sandwich shop in Edgewater. Now, that's all about to change. Soon, a converted postal truck will be roaming the city, making its most special delivery ever: your lunch.
So let's jump ahead to this Friday—let's say noonish. You'll feel those usual pangs for chewy bread and meats that have been braised for 12 hours. Suddenly, almost like it's reading your mind, the Gaztro-Wagon sends you a text alerting you to a rendezvous point. (Spoiler alert: Friday, it's Millennium Park.)
Of course, if you're hungry for a little post-work snack, you might want to strategically position yourself in Lakeview on Friday night for hearty
Braised Short Rib and Goat Cheese
and
Slow-Roasted Lamb and Onion Jam
. Perhaps it's even later, and you find yourself in Lincoln Square, willing to do just about anything for an
Italian Sausage Naan-Wich
before crawling into bed. You'll receive another text and then look up...
Frankly, we think this thing may be stalking you.