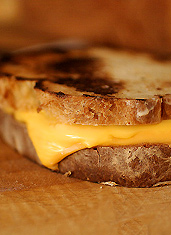 You know how this game is played.
Meet in a crowded public place. Read the paper, pull your fedora down and wait for your contact to arrive. And then—the handoff.
An unmarked brown paper bag, filled with 2¼ ounces of... pure grilled cheese.
Welcome to
Bread.Butter.Cheese.
, a covert grilled cheese dealership operating out of an apartment and making drops in the tiny East Village park on First and First, starting today.
The process is simple. Almost too simple: you'll text or dial The Man (we'll call him Ronnie), and leave a message telling him how you like your grilled cheese. Ronnie posts his "inventory" of daily specials
here
, but he's a resourceful chap and can do everything from your basic Wonder Bread with Kraft Singles to a buttery Spanish Malvarosa layered with caramelized onions and raw jalapeños (remember, there's no such thing as purity in grilled cheese).
You'll get a text back with a delivery time—like any good dealer, he operates around the clock—and then, a normal-looking guy will approach cautiously. You'll give him the nod and hand over a small quantity of unmarked bills. He will pass you the bag. Then he will disappear.
And should Ronnie take a shine to your grilled cheese order, you may find as a bonus a can of beer or tiny airplane bottle of whiskey in the brown bag along with your sandwich.
Either way, pick up the bag, stand up and walk away very slowly.