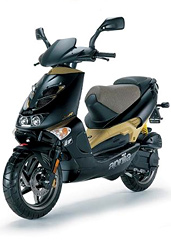 Maybe it's the heat. Perhaps the siren call of the seashore. Or it could just be that whole LeBron to the Knicks wager that didn't quite pan out.
But every now and again, you need out of town, and you need out of town quick.
And hey, we're not going to ask any questions.
We're just going to quietly point you in the direction of
NJ Rent A Scooter
, an under-the-radar new service with the sole purpose of delivering the sweet freedom of a scooter to your door whenever and wherever you may need it, available now.
Like all good delivery services, these guys understand that speed counts. Just give them a call when it's time to drop off the grid, and within an hour a truck will pull up to your apartment/office/safe house to unload a 50cc Aprilia scooter, no questions asked, no motorcycle license required.
The scooter looks and feels like the kind of full-size racer you would zoom through the back alleys of Rome on while fueled by strong coffee, but since its top speed is only supposed to be 30 mph, it doesn't require a special license. (Let's just say this: we got it up to about 50 mph.)
So you'll be free to bandy about town (you can rent for a day, a month, more...), jaunt off to the beach or just generally eat gelato and pretend to be a carefree Italian.
But remember, potholes = spilled gelato.