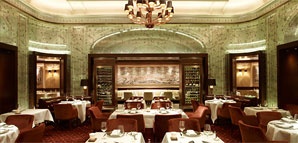 As of last night, Alain Ducasse has a new culinary playground.

Adour, at the St. Regis, has finally arrived—and we're pleased to bring you a little peek inside.

Not surprisingly, Adour already feels like it's been open for years as an upscale wine boîte and a meeting place for the well-heeled. The décor is intimate, posh, if not a tad...measured. If you're there for a milestone date or to celebrate your latest acquisition of pork belly futures, you won't be disappointed. Especially if you're ordering the Cucumber Marinated Hamachi or the Duck Breast Filet with Creamy Polenta. Not to mention the bread, flown in as frozen dough from Le Nôtre in Paris.

But the small bar—first come, first serve—will be the most interesting place to decamp. Stop by for a needed respite and a glass of Bordeaux after (or during) a long day of work. You're likely to meet an interesting group of people—oeneophiles, corporate raiders, antiquities dealers—and taste some unlikely bar bites that are deliciously retooled versions of the dinner menu (we loved the Lobster Thermidor—yes, it's a bar snack).

There's also the matter of that interactive bar top menu—a whimsical, sparkly menu that allows you to peruse the reserve list by waving your fingers around the air Minority Report-style. It comes off as a bit gimmicky at the front bar, but it's the perfect conversation starter at the wine vault's private table.

But then again, so is that Bordeaux.