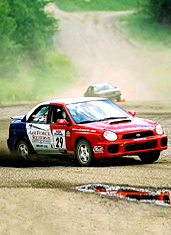 It happens all the time.
You're cruising on Storrow Drive, and you suddenly get the urge to floor it like a bat out of hell and go for a joyride through the city—but you can't, because you don't want to get caught by the cops or injured, and plus you have to drop off
Under the Tuscan Sun
at the video store by 9.
But now we've found a place where you can get your Mario Andretti/Cole Trickle/De Niro in
Ronin
on. And just as you'd expect it, it's in New Hampshire.
Presenting the
Team O'Neil Three-Day Rally School
, a full-throttled immersion in the art of driving like a professional rally racer (note: mustache optional), now taking reservations for August.
Here's the itinerary: you'll get yourself up to a huge, private valley in Dalton, New Hampshire, and for the first two days, you'll spend most of your time behind the wheel of a stock German sedan that's been souped up with racing seats, harnesses and extra suspension.
Your course: a gravel and clay-based slalom track and skid-pad, which is basically an enormous surface specifically designed for executing burnouts, doughnuts and other things you might have witnessed in the immortal classic
The
Fast and the Furious: Tokyo Drift
.
Under the tutelage of professional rally racers (including one Tim O'Neil, a five-time North American Rally Car champ), you'll learn everything from left-foot braking and accident avoidance to something called "counter-skidding."
All of which will prepare you for your final day, when you'll test your mettle on a super-curvy, 6.5-mile private track, blazing and sliding around turns at up to 50 mph.
This is as close to being a cab driver in Boston as you'll get.