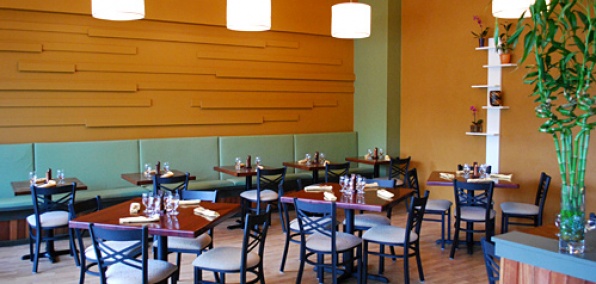 The first date. It should be held at a place that...
...is suave but not showy.
...serves stiff cocktails.
...you haven't taken another date recently. (In other words, someplace brand-new.)
So allow us to introduce an exciting addition to your first-date arsenal:
Umami
, an Asian restaurant that passes all three requirements with flying colors, opening late next week in Brookline.
Sleek, minimal and plentifully sake-stocked, Umami is where you'll want to take that next irresistible courtee who has a hankering for Asian food and a fondness in her heart for Washington Square.
You'll start at the seven-seat mahogany bar for a
Garden Breeze
(junmai sake, gin, thyme, cucumber), a beer and some
Sautéed Shiitake Mushrooms
. As you shift the conversation into second gear, you'll proceed to a handmade table to pore over
a menu packed with Asian-ness
like
Simmered Sea Bass
—it's sautéed in sake and served with green tea noodles—and less-Asian-ness like
Savory Colorado Elk Loin
(which should earn you bonus points if your date is big on game meat... or hails from the Rockies).
Finally, you'll want to enjoy the cool summer air on the front patio with a few jugs of 7 Swordsmen Sake, produced in one of the oldest breweries in Japan.
Ancient Japanese brewery: great second-date spot...