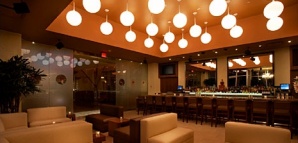 Vegas is known for a lot of things.

Simple, refined atmosphere probably isn't one of them. That's why the city's latest addition is a welcome oasis—the much-anticipated culinary hotspot Ago from Robert DeNiro and executive chef Agostino Sciandri.

Tucked away in the former home of the Hard Rock's Simon Las Vegas, Ago is here to bring you classic, mouth-watering Tuscan comfort food faraway from the pulsing lights and pounding bass of most big new Vegas restaurants.

Walking in past the lounge, you'll first be drawn to the warmth of the signature open kitchen. Once you've adjusted to the (almost)muted tones and the classy environs, find your way to one of the nooks lined with twin wine racks that perfectly accommodate large parties. And be sure to prepare your guests: dishes here tend toward the classic and authentic (yes, in Las Vegas).Wild game figures prominently—we love the flat egg pasta with wild boar stew—and the creative nightly specials will help you win points as the wiry-haired Tuscan maestro makes his rounds in the dining room.

And after you've had your fill of the refined, the rest of the evening can go any way you like.