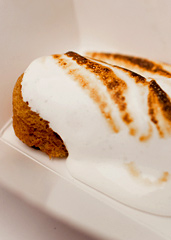 It was only two short weeks ago that we celebrated the birth of our country.
But because we can't have fog-shrouded fireworks every day, we've found another worthy way of saying "Happy birthday, USA"—something so simple, it borders on revolutionary.
Introducing
51st State
, a four-wheeled chariot dishing out timeless comfort food from all parts of our fair nation, open for lunch now.
Basically, if you drove a truck across the country in search of comfort food, this is what you'd come back with. You'll
follow the truck on Twitter
, then head over around noon, as they've been known to sell out by 1:45pm or so.
Look for a bright blue '83 GMC Value Van, serving up specialties like
Brunswick Stew
(pork, chicken, sausage) and
S'mores Twinkies
—a cinnamon graham cake filled with chocolate ganache and topped with torched marshmallow. (Yes, we said torched marshmallow.)
The menu will change seasonally, so in a month or two expect the stew to drop off in favor of warmer-weather fare like fish tacos by way of San Diego and the rice-and-meat dish known to Hawaiians as a plate lunch.
Apparently, this truck travels over water.