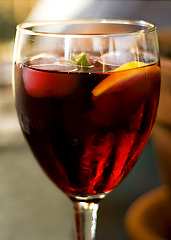 Summer goes by so quickly. And there's nothing you can do about that.
Well, there
is
one thing: you can adapt. By drinking in the most expedient way possible.
Which brings us to one of the most important advancements in summer cocktailing:
Sangria on Tap
, now gushing at Theory.
Now, first off, we know: a sports bar and sangria—unless you're watching the World Cup in Barcelona, perhaps not an advisable combination. Then again, this is the kind of sports bar that has marble bar tops and a big outdoor patio, so you're in good hands.
Here's how it will go down. Before you decamp to that aforementioned sunny patio with a cadre of after-work sun worshippers, head to the bar. There, you'll notice a mysterious purple handle. It has no label and is hidden between two beer taps. You'll point to it. The bartender will nod with a conspiratorial wink.
Then, a pitcher will be packed with ice. With a heroic yank forward, the bartender will fill it with an earthy housemade mélange of red wine, triple sec, orange, pineapple and grapefruit juices... and a dash of brandy. And all this takes about, oh, 1.5 seconds.
Good thing you're not the impatient sort.