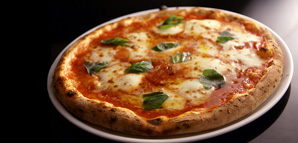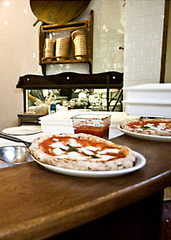 Late-Night Rule #146: Once you get past midnight, pizza tends to come fast and loose.
And while there are late nights when a slice and only a slice will do—whether it's from Artichoke or Ray's on the corner—today we'd like to present a new kind of 4am pizza option. One that's slowing things down, banishing the slice and bringing in a few negronis because... well, just because.  
Introducing
Olio Pizza e Più
, the newest brick-oven Neapolitan pizza den to enter the fray, opening this Thursday for late nights of charred, bubbly pizza goodness in the West Village.
Helmed by an Italian maestro famous in the mother country for putting edible silver leaf on a pizza, Olio is a cathedral of dough and cheese with a giant, imported brick oven dominating the white tile and dark wood space. It's from this oven that countless doughy delights will issue forth, topped with all manner of Southern Italian staples like burrata, Parma ham and arugula.
So after a long night of carousing in the wonderland of the West Village summer, you'll want to find your way over to Olio for one last Dark and Stormy in the great outdoors—otherwise known as sidewalk seating. Olio has room for 60 out there, in what promises to become a post-scene scene, watered by cocktails designed by the masters at Employees Only.
As the best post-scene scenes often are.