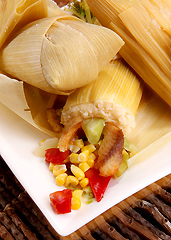 You've probably already got plans tonight.
An agenda made up of a negroni or two at happy hour, some oysters, more negronis, and then, well, who knows after that.
But if you're holding out for something a little more under-the-radar—something that involves eating Mexican-style rabbit belly and goat ribs next to barrels of wine—we think we can help.
Welcome
Tendejón de la Calle
, a roaming underground supper club bringing Yucatan cuisine to barns, vineyards and wine warehouses in and around Healdsburg, expanding to Friday nights today.
Sort of like the restaurant equivalent of a weekend at Burning Man, this stealth operation is all about sweeping in, feasting on a bounty of organic delicacies (we're talking about the meat and produce here) and leaving no trace at night's end.
Since the locale is a moving target, they'll disclose the exact details when you call to make your reservation. Once you roll up and grab a seat at one of the big communal tables, they'll take your order restaurant-style and bring everything—ranging from a duck fat-fried goat's head patty to
Tacones
(cone-shaped tortillas filled with shrimp and guacamole) or maybe a
whole roasted pig
—to you.
The only thing you have to bring is wine, and glasses to drink it in. We suggest taking the good stuff to share, as you'll likely be in the company of some of the Valley's best winemakers.
Actually, you bring the tequila...