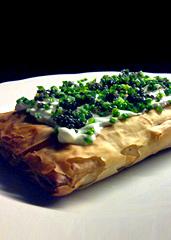 Memorial Day is long past. The Fourth is but a faded firecracker. But today we arrive at the next great summer holiday.
Yes, it's National Caviar Day.
And with National Caviar Day comes all the Russian indulgences—icy vodka, personal cold wars, opportunities to buy the Nets—that you hold off on all year long.
Oh, and Pop-Tarts. Let us explain...
Introducing the
Caviar Pop-Tart
, a secret, off-the-menu savory pastry bomb, available starting today for a limited time at your favorite
house of Russian excess
, Mari Vanna.
It's best to approach this flaky, salty stunner with a bit of caution. After all, this is the breakfast equivalent of a rogue KGB agent. It's what Tolstoy might have lunched on if he had chosen peace over war—a warm strudel stuffed with salmon, draped in a blanket of cool crème fraîche and dotted with black caviar.
It's crunchy, smooth and decadent, all at once, and it deserves to be consumed on a bear rug with a bottle of iced vodka.
And while we'll leave you on your own for the bear rug, to wash down your new delicacy you'll be offered a second holiday treat. For included with your Pop-Tart is a shot of icy chilled vodka with orange pearls of, yes, salmon roe floating at the bottom.
Also known as vodka on the eggs.